Laminate Flooring in Tampa, FL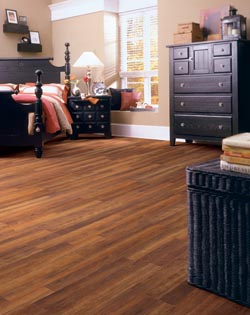 Transform the look of your home and impress every houseguest with stylish and durable laminate flooring from our locally owned store. Our team of elite flooring installers gives you the chance to create a stunning and functional living space for your family and friends. We take care of all the details so you can relax and enjoy your new laminate floors without the hassle of constant maintenance and repairs. Whether you desire the look of traditional wooden floors or the one-of-a-kind patterns that tile brings to a room, our professionals sell and install a vast selection of laminate wood flooring and laminate tile flooring options that are sure to enhance the atmosphere of every room.


Versatile & Durable Laminate Wood Flooring
Enjoy the benefits of laminate wood flooring, which include the high-end look of hardwood at half the cost. This versatile flooring lasts long and adds elegance to any room with little to no maintenance. These floors add the aesthetic appeal of a classic, colonial home while combining the modern convenience of simple maintenance for the homeowner. Choose wall-to-wall charm, with easy installation.
Laminate wood floors are made from compacted wood, giving them the extra resistance they need to repel the scuffs and scratches that occur over time. Additionally, the protective laminate coating prevents moisture from slipping under the floorboards, which saves you money in the long run as you won't need to endure repair or replacement costs.


Gleaming Laminate Tile Flooring
When you wish to update your home to a sleek, contemporary design, look no further than our laminate tile flooring. It is made of some of the most durable and versatile materials in the industry, ensuring you receive a floor surface that stands the test of time. Laminate tile does not crack or break over the years, and stays in pristine condition even after you drop something heavy on the surface.
Furthermore, laminate allows you the freedom to replace individual pieces without tearing up the whole floor. It also has a smooth texture with no grooves or grout, making it easy to clean, mop, and sweep over its slick surface. It even resists dirt and stains for a simple way to keep your home looking beautiful at all times.


Long-Lasting Laminate Floors
Laminate floors give you the most value for your dollar. Not only do they bring a stunning visual appeal to every room, but they also bring a level of quality and durability that is unparalleled. Our laminate floors are available in a vast assortment of beautiful finishes that matches the style and decor of any home. For your convenience, our specialists offer only the highest quality products from the most renowned brands in the industry, including Shaw, Mannington, and Mohawk.


A Fast & Simple Laminate Flooring Installation
Modernize your home by choosing the perfect laminate flooring installation. Our experienced crew of technicians installs your flooring as quickly and efficiently as possible. We pride ourselves on using the latest technology and equipment available to ensure a beautiful finish. Along with our Confidence Plus Warranty, you are sure to feel great about every aspect of your new, gleaming floors.

Contact us today to create a unique living space in your home with laminate flooring. We proudly serve clients throughout Tampa, Brandon, Carrollwood, Lutz, and Ybor City, Florida, as well as the surrounding areas.