Improve Your Home with Luxury Vinyl Planks in Tampa, FL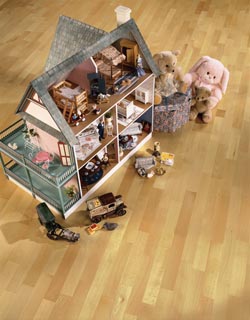 At Stewart's Flooring America, you will find everything you need to attain picture-perfect spaces. As your source for luxury vinyl planks in Tampa, FL, we have a diverse selection of products that will improve the look, feel, and value of your home. Visit our showroom, discover your remodeling options, and get the assistance you need to realize your ideal interior.
The Advantages of Luxury Vinyl
Luxury vinyl plank floor, often shortened to LVP, is a versatile material. Thanks to advanced manufacturing methods, this flooring type is characterized by its strength and aesthetic appeal. Our showroom offers hundreds of different luxury vinyl options from prominent brands. There are many reasons to choose LVP, including:
Visual Appeal: One of the standout features of LVP is its resemblance to solid hardwood. Now, you can enjoy the natural beauty of wood species like oak and mahogany anywhere throughout your property. Our showroom features samples of luxury vinyl in many different designs, which leads to virtually limitless remodeling possibilities.
Toughness: There is no need to make a choice between form and function with this material: you get both. Luxury vinyl plank is solid surface flooring that has a hard composition. At the same time, it absorbs impacts, scratches, and bumps. The no-nonsense durability of LVP makes it a great addition to high-traffic rooms, including the living room.
Ease of Maintenance: Save your time and energy to do more of what you love. One of the greatest benefits to LVP is its resistance to water. The non-porous surface of this flooring means that dirt, dust, and liquids clear away with little effort. Luxury vinyl's resiliency makes it great for moisture-prone rooms.
Discover all of the advantages of LVP floor at our showroom. Whether you aim is to create a Nature-inspired interior or rooms with great acoustics, there is a good chance luxury vinyl will meet your specific needs. Our knowledgeable showroom associates are here to provide in-depth consultations, where you will have the chance to discuss your project goals and find the flooring that best meets your needs.
Your Flooring Installation Specialist
Luxury vinyl plank flooring is a great addition that will improve the ambiance and strength of your interior. Whether you are re-flooring a single space or conducting a complete home makeover, we're here to support you at each phase of your project.
Ensure the beauty and longevity of your new flooring by letting us put on the finishing touches. We're available for luxury vinyl plank floor installation. Our team has the experience and skill to handle projects of any size and scope. We work diligently and pay attention to the details, allowing you to enjoy your new flooring as quickly as possible.
Contact us to learn more about our luxury vinyl plank flooring. We proudly serve customers in Tampa, FL, as well as Brandon, Carrollwood, Lutz, Ybor City, and the surrounding area.