Your Premier Supplier of Wood-Look Tile in Tampa, FL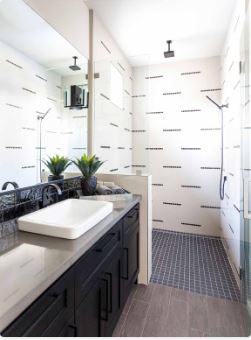 Natural wood is one of the world's most proven and timeless flooring materials. It adds a unique level of refinement to your space and creates a sense of elevated polish that few other materials can capture. There's just one problem: wood can suffer damage from high levels of humidity, and you live in Florida.
At Stewart's Flooring America, we have a solution for homeowners who want the aesthetic benefits of wood without the potential for long-term money loss due to the local humidity. Our showroom offers wood-look tile in Tampa, FL, to give customers the highest level of value and a full range of climate-enduring design options.
With an industry-leading selection and on-hand experts to answer any questions you have during the buying process, we have everything you need to achieve the look of natural wood with modern, durable tile. Completely moisture-resistant, our tile stands up to the local weather and keeps your floors pristine in every season.
Knowledgeable In-Store Expertise
Thanks to our position in a nationwide network of locally owned flooring providers, we have the experience and reputation to attract the area's best flooring professionals. Whether you want porcelain or ceramic wood tile for your floors, our team guides you through our range of available products and gives you specialized insider knowledge.
Why do we work so hard to keep expert advice close at hand for our customers? We believe that the best businesses all have one thing in common: satisfied clients. Our team does everything possible to make your experience as comfortable, affordable, and valuable as possible with:
A Curated Selection of Quality Products
Professional Insight into Material Features
Localized Knowledge of Ideal Solutions for Florida
Personalized Service for Each Customer
A Unique Flooring Experience
When it comes to wood grain tile, you want to ensure that the products you choose accurately reflect the appearance of natural hardwood and suit the space you have in mind. Our selection is the area's best choice for highly customizable tile options that allow you to tailor your floors to fit your needs with adjustable:
Shapes
Sizes
Colors
Textures
In our showroom, you can experience the unique benefits of a flooring provider with broad buying power and a local, personal approach to customer service. For any room in your home that needs new floors, we have a reliable solution that embodies a classic wood style that incorporates the sleek, comfortable utility of wood plank tile.

Contact us today to browse our collection of wood tile products. We proudly serve Tampa, Florida, and the surrounding areas.